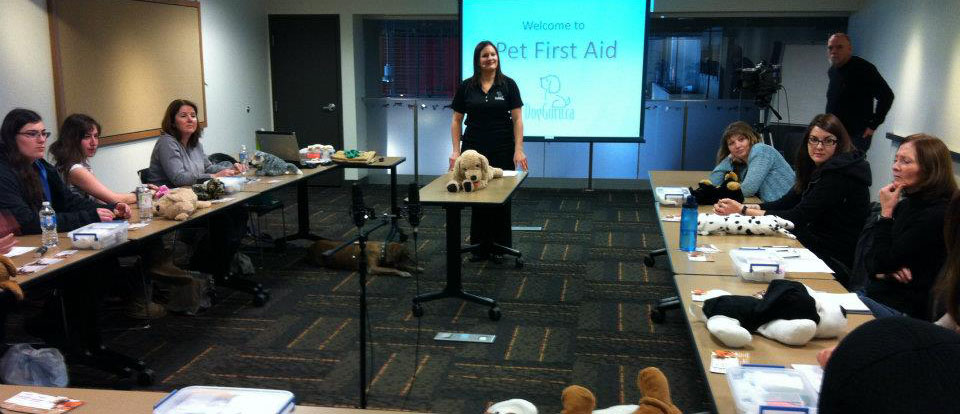 The Certified Pet Care Professional System:
If you are interested in working with pets, or perhaps are looking to continue your education, then this system is for you.
The first stage in the Certified Pet Care Professional System, is through our two certification courses, Pet First Aid and Pet Care 101.  These can be taken in person, or virtually, through our soon to be released DogGuru Certified Pet Care Professional™ Home Study Program.
Pet First Aid
Pet First Aid offers a solid, experience-based course for both dog and cat owners and Pet Care Professionals.  This Veterinarian-approved Certificate Course was developed with the goal of bringing a more 'reality-based' approach to Pet First Aid.  Through my experience with thousands and thousands of pets, over the past two decades, I saw the need for a course that addressed the real side of what people face every day with their pets.  This Pet First Aid course, is now a leader in the world of educating Professionals about how to care for their clients pets, and in giving pet parents 'peace-of-mind' that they know what to do.
Toronto Based Pet First Aid courses are usually held at PawsWay Toronto, 245 Queens Quay, North Building, Toronto, Ontario (Harbourfront Centre) and run from 10am to 6pm. Pet First Aid courses are generally held three or four times per year.
Visit Upcoming Events for dates & registration information
Pet Care 101
Ever wondered if there was somewhere that offered training to work in the Pet Care Industry? Well, here it is! Basics and hands-on training for an exciting career as a Dog Daycare Attendant, Dog Walker, Pet Sitter, Kennel Attendant, Veterinarian Assistant, Dog Trainer Assistant, Animal Control Officer, Pet Rescue Worker.
Successful graduates have been hired into various positions – from Attendants to Managers, by local Pet Care Facilities to National Pet Hotels. Others have started their own Daycare/Boarding Centres or Dog Walking business, and still others have pursued careers as Trainers, Animal Control Officers, Veterinary Assistants, and Veterinarians. You Will Learn: Dog Group Dynamics Dog-Human Body Language & Communication Basic Dog Training & Behaviour Modification Recognizing Health Issues Emergency Concerns & Medical Conditions Administration of Medication Procedures for Sanitization Proper Pet Handling Usually 10am to 6pm, Saturdays or Sundays See registration form for course rates.
Toronto Based  courses are usually held at PawsWay Toronto, 245 Queens Quay, North Building, Toronto, Ontario (Harbourfront Centre) Pet Care 101 courses are generally held two or three times per year.