Cheryl Orletsky the DogGuru
How long have you been doing what you do and how did you get to be the DogGuru?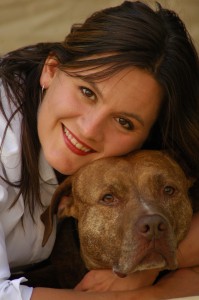 It's probably best  if I answer this question by sharing with you, some of the defining moments of my journey in this industry, and the resulting compelling story that brought me to where I am today, as the Founder and Director of Holiday Pet Care, a highly successful, completely cagefree boarding centre, dog daycare, petsitting, dog walking and grooming business.  I started my business, in my own home, literally with no training.    Now I teach and coach people just like you, on exactly what to do, to understand pets, and to give the best care possible, to our furry friends, both as pet lovers and as pet care professionals.
It was 1998, and only a few weeks in business.  I had worked as a Veterinarian Assistant, and an Assistant Dog Trainer, yet I basically had very little training behind what I intended to accomplish.  I figured, being passionate about animals was enough.  How much do you really need to know anyway?
My first big wake up came at  about 6 weeks into my business.  I had 5 pets staying with me for the Winter Holidays, and my Dad happened to be visiting as well.  We were sitting and watching TV one evening, and I commented on the rash on my ankles.  He looked at the tiny, itchy red bumps and said to me, "Those look like flea bites".  I was shocked.   This was the dead of winter, and a very cold one at that!  Learning that fleas could be carried by pets and then infest a warm environment so quickly was one of my first big lessons in the business.  How embarrassing!  Having to inform clients that their dogs had to be treated for fleas,  and then having to tear out all the carpet and fumigate my house 3 times over the next few months.
I guess there was a little more to know about pet care than I thought.
Soon, my business was growing leaps and bounds.  The more popular I was, the more clients were calling, and the more different dogs I was seeing.  I let people know that I only took friendly dogs, but honestly, looking back, I think I was lucky more than anything.  I really had no idea how to do a proper temperament test on a dog.  There was this one incident that I will never forget, where I really started to realize how little I actually knew about dog social behaviour.
I was boarding several dogs in my home, and one Saturday morning, after the dogs had all had their breakfast, and playtime in my backyard, I lay down on the couch for a nap.  Now because I had several pups staying with me, they all climbed up with me of course.  It was all a very nice snuggle session, until quite suddenly one dog jumped off of the couch and grabbed another dog by her head.  He was large, so his jaws were completely around her head.  I jumped into action and did everything I could to get him to let go of her, which he eventually did.  It all happened so fast, and the next thing I knew, the dogs were separated and seemed ok, however it took me a few minutes to notice that the blood I was seeing on their fur, was actually from me.  I had managed to break up the attack successfully, however I ended up with 5 stitches.
I realized there was a whole lot I didn't know about dogs, their health, and their behaviour.
I quickly proceeded to seek out all the training and practical experience I could.  It wasn't easy.  Most of the reputable animal behaviourists spoke at conferences throughout the United States.  Even when I managed to afford the time and money to attend, they were often focused on one small field of behaviour, and I had to pick out the gems that were applicable to what I wanted to know and put in place for my business.
I thoroughly enjoyed attending these conferences, however I would have to say that a whole lot of my learning was actually trial and error, and errors are not what you want to make when you are in charge of other people's living, breathing fur-babies.  Fortunately, I learned fast!  I never made a mistake more than once, and any mistakes I heard that other Pet Sitters were making, I put in place measures to ensure those would not happen to me.
As a result of my diligence and commitment to learning and implementing excellence in care, my business continued to grow.  As I expanded to include staff, I found myself in the unique position of needing to train others to do what I did, but not only the basics, because after all, this was my name and reputation on the line.  I needed to be sure that they would provide the pets in our care the same excellent quality of service that I would give.
I soon discovered that I was very good at teaching people by breaking down all that they needed to know, into easy-to-learn steps, and providing real-life situations and stories to back up the learning, and further to that, they were having fun!  People loved learning from me!  I provided high-content, high-value, with a down-to-earth delivery and humour to boot.
One day, in 2007, it was suggested to me by my partner, that my teaching should be packaged in a way, that they could be available to the general public, not just prospective employees.  This way, I could help that many more people realize their dreams of working with pets, by providing them with an easy step-by-step process for getting educated about pet care, while eliminating the pain associated with discovering things the hard way, through trial-and-error… And the best part… I would ultimately be helping SO many more pets get the excellent care they deserve!
There was simply nothing available out there, that combined all the specifics on how to work in the Pet Care Industry, and definitely nothing in the Toronto area.  I knew there were people out there who shared my love and passion for pets, yet didn't have the tools to actualize their dreams of making this their life's work.  Out of this realization DogGuru was born.
Guru actually means "Dispeller of darkness".  What I have devoted myself to as the DogGuru is to creating 'light' in the area of pet care and specifically with dogs.  People no longer need to be in the dark when it comes to understanding what dogs are thinking, doing, or what they need to thrive.  I am passionate about dogs being able to be 'dogs' and to enjoy their lives immensely while cohabiting with their human families.  In order to do this, we need to open our minds and learn what is in the 'darkness'… how dogs see the world.
Today, I offer services to both Pet Care Professionals and Pet Owners.  I know that through education, and putting new knowledge into action, we all get to feel better about what we are doing day to day.  Through me, as the DogGuru, a new, prepared and experienced breed of Pet Care Professionals are born, and a new, understanding, relaxed, easy-going breed of Pet Owner is born.  After all, when the pets are happy, us pet lovers can't help but be happy!
Who are your clients exactly?
I work with clients, just like you, who are pet owners, or pet professionals, who really love dogs and love sharing their lives with pets, however have never been taught how to completely understand dog behaviour, care and health, and don't know how to get the information and confidence they want and need.   Perhaps you want to get started in the pet care industry, and you just don't know where to get started, or you are wondering how to take it the next level, to be seen as a true 'professional' in the industry.  That being said, I've worked with people who are in or wish to be in every area of the pet industry.
Dog Walkers
Pet Sitters
Dog Daycare
Kennel Attendants
Veterinarian Assistants
Groomers
Pet Rescue Workers
Animal Control Officers
Pet Hotel, Dog Daycare & Kennel Managers/Owners
How are you different from other "dog trainers?"
Although we will occasionally touch upon obedience training and other "dog trainer" type of things, you have me as a Dog expert and consultant. I ONLY work with open minded pet lovers, who are open to seeing the world in a completely new perspective.  In other words, I don't work with people who are focused on agility or other advanced obedience training, and I'm not a run-of-the mill trainer. I refer those clients to other trainers. What that means to you is that I am very focused on anything and everything that works for the pet-lover who 'wants' to see the world through their dog's or cat's eyes. Because my focus is relatively narrow, what you get with me is no-nonsense, undiluted expertise on what works for making lasting changes in pets' health and behaviour.  I've simply become an expert in this area, and that's why my clients, classes and students get great results (and I throw in a healthy dose of compassion, quirky humor and encouragement, which ALWAYS helps!).
 What type of personality do you work best with and what is expected of me?
DogGuru workshops, products and programs were created for people who are absolutely excited and deadly serious about creating understanding and lasting change, and ending the "can I really do this" script.  No more banging your head against the wall saying, "perhaps I don't have what it takes!?!"  They were created for you to put systems in place within a few months (sometimes weeks!), which will lead you to all the success you desire with your own pets and for your clients' pets.  Knowledge is power and you will fast-track yourself for getting where you want to be — quickly –not in a year or two, or many more years, which is a conservative estimate on the traditional time it takes for people to obtain this level of information through trial and error.
Consider what you'll do with me to be an action learning course. You will be expected to take serious and consistent action. No excuses anymore, just a very different way of thinking and full support while you achieve this incredibly exciting goal: well-adjusted dogs, who are healthier, happier, not to mention the happier human counterparts.  Harmony is the key word.
For what type of person is this training NOT going to work?
Please know I'm very selective in who I work with and I do sometimes choose to (gently) turn away people who aren't suited for my programs and won't get the results for which they would have signed up for. (It wouldn't be fair to them.)
The DogGuru programs are NOT for those who don't have the understanding that knowledge is power, and that in order to improve in any area in life, you must invest in yourself, both time and money.  It's been my experience that people who don't truly get the value in education, thus not being open to new ideas, do not trust the recommendations I give them and do not do the work (probably because they spend so much time worrying and complaining about their own situation.)
If you fall within this category, it's absolutely OK. We've all been in times of crisis at one point or another.
Do yourself (3) favors:
Create a pros/cons list.  Divide a sheet of paper into two columns and write pros on one side and cons on the other side.  Now start to write out all the thoughts that come to mind when you consider investing in education for yourself in order to improve yourself as a pet owner or pet professional.  For example… a pro might be the possibility of new solutions being presented.  A con might be that the solutions may not work for your situation.
After you are done, go over your list and mark each item with a heart or an 'X'… a heart is based in love.  These are the hopes, dreams and good feelings.  An 'X' is based in fear… basically the 'what ifs'.
Then consider if you can completely 'cross off' any of your 'X' items… knowing that fear is usually not based in reality.  Fear is usually based on the unknown future, or a perceived negative outcome.  Are there any loving thoughts that you can use to calm your fears to bring it back to reality.
Doing these three steps will really help you get primed for our work… a work centered around setting everything up for success.  When you're ready, call me and we'll get you started. (I'm in no rush and will be here when you need me.)
Another type of person I won't work with (without exception) is the whiner or the chronic skeptic, as well as individuals who consistently make excuses for not getting their assignments done or challenging every aspect of the program. If you are one of these people, I gently and respectfully ask that you not call and I hope you understand why. We'll probably just not work well together and I wouldn't want you to waste your time or money. Is that fair?
 What exactly is offered by the DogGuru and what do these programs include?
Creating a new understanding of how dogs see the world, and how you can communicate effectively to get the behaviour you want.  Becoming knowledgeable in this is the foundation of all harmonious dog-human relationships, and will also become the foundation for a successful pet care business, should you desire, by allowing you to show up as a true professional.
DogGuru offers two different systems depending on whether you are simply a pet-lover or also wish to have training as a  pet care professional.
The Dog Manners System:
The first stage in the Dog Manners System is through our live Seminar and/or soon to be released book entitled:
"My Dog Just Won't Listen to Me™: Creating Lasting Changes in Your Relationship with you and your Dog"
This is the foundation learning that is necessary to truly get the DogGuru principles of living harmonious lives with our dogs.  It consists of 3 principles:
Exercise – We examine the importance of, types and requirements, as well as the symptoms and implications of an imbalance.  Together we consider the specifics that apply to your specific dogs based on a number of important factors.
Food – We explore the specific needs of dogs, from a scientific perspective, and where we often fail as caregivers to provide what is needed for them to not just survive, but to thrive, both health-wise and in their behaviour.  A strong emphasis is placed on holistic feeding and we will discuss choosing the very best from commercial or home-made food options.
Communication – This section is the most involved and FULL of  'light-bulb moments'.  You will quickly discover where the communication break-down has been happening with your dogs and learn how to quickly make small but powerful adjustments in the way you communicate.  You will see that there is simply no 'going back' once it becomes crystal clear what was going wrong previously, and you have an increased confidence in yourself as a dog handler and an understanding of how to make lasting changes in your relationship with your dog!
Following this first stage, those that wish to continue on to the more hands-on 'coaching' type of instruction will graduate to the Dog Manners System of training classes, either live, in person or soon to be released, virtually through the "DogGuru Dog Manners Home Study System™.  Here's what the system gets you to do:
Get you dog to pay attention when you call their name
Create it such that you dog 'wants' to do what you want them to do
Make it so that they follow your instructions quickly and concisely
Teach or reinforce some basic obedience commands that are necessities to having a well-behaved dog (including some just plain convenient ones, like eliminating on command)
Create a system of success when it comes to impulse control (distractions/ADD-type behaviour;-)
Eliminate any jumping-up behaviours & learn how to properly meet people and other dogs
Establish a reliable, concrete recall ('come' command)
Learn to walk your dog, not have them walk you! (Loose-leash walking)
See the benefits (and fun) in teaching tricks.  It's not as hard as you think!
The Certified Pet Care Professional System:
If you are interested in working with pets, or perhaps are looking to continue your education, then this system is for you.
The first stage in the Certified Pet Care Professional System, is through our two certification courses, Pet First Aid and Pet Care 101.  These can be taken in person, or virtually, through our soon to be released DogGuru Certified Pet Care Professional™ Home Study Program.
Pet First Aid offers a solid, experience-based course for both dog and cat owners and Pet Care Professionals.  This Veterinarian-approved Certificate Course was developed with the goal of bringing a more 'reality-based' approach to Pet First Aid.  Through my experience with thousands and thousands of pets, over the past two decades, I saw the need for a course that addressed the real side of what people face every day with their pets.  This Pet First Aid course, is now a leader in the world of educating Professionals about how to care for their clients pets, and in giving pet parents 'peace-of-mind' that they know what to do.
Pet Care 101
This course consists of a full day intensive, including comprehensive training to work in the Pet Care Industry.  Basics and hands-on training for an exciting career as a Dog Daycare Attendant, Dog Walker, Pet Sitter, Kennel Attendant, Veterinarian Assistant, Dog Trainer Assistant, Animal Control Officer, Pet Rescue Worker.
Successful graduates have been hired into various positions – from Attendants to Managers, by local Pet Care Facilities to National Pet Hotels. Others have started their own Daycare/Boarding Centres or Dog Walking business, and still others have pursued careers as Trainers, Animal Control Officers, Veterinary Assistants, and Veterinarians.
You Will Learn:
Dog Group Dynamics
Dog-Human Body Language & Communication
Basic Dog Training & Behaviour Modification
Recognizing Health Issues
Emergency Concerns & Medical Conditions
Administration of Medication
Procedures for Sanitization
Proper Pet Handling
What results can I expect?
You can expect to:
Increase your confidence level
Network and make connections
Be inspired and motivated to get your business kick-started to success
Get increased exposure for your business
Be seen as a professional in the industry
Learn more than you ever imagined…

Know how to keep your pets healthy, recognize emergency situations, and be able to act
How dogs see the world, and how we can get them to listen to us
Understand dog behaviour, and modification (training) terminology & techniques
How to prevent dog-dog fights, and also how to break them up safely, if necessary
Practice handling and restraint techniques
How to administer medication of all types (including sub-Q injections such as insulin)
Vaccination protocols, including alternative (holistic) options
In addition to these, you will learn dozens and dozens of things you never even knew you didn't know!
…and best of all you will have a blast doing it!  After all you're in the pet industry so you can do something you enjoy… so why should the education and certification be any different!
Can I contact some of your former clients to see what it's like to work with you?
Yes, I encourage you to! Please go to the Client Testimonials page and read all of them. See which ones you feel drawn to, either because the person has gotten the results you want to get too, or perhaps because that person is in a similar situation as you. Then feel free to email or call them and ask what they got from working with me and my programs.
Cheryl, based on everything I've read and heard about you, I know you're the one I want to learn from. What are my options for getting started with you?
Congratulations on making a decision for success! I'm happy to work with you to achieve results…
To get started with making changes in your life with your pets and/or your pet care business, here are the different programs and products I've created for you:
For Pet Owners, we highly recommend that you start with the Dog Manners Classes.  These classes contain absolutely ALL the basics to help you make quick and effective changes in your dog's behaviour.  If you've ever complained that your dog just won't listen, or have problems behaviours that you wish you could make 'disappear'… then this is a Must-Do and will show you step-by-step exactly what to start doing—and stop doing—in your relationship with your dog.  www.DogManners.ca
With your enrollment in the DogGuru Dog Manners program, you will receive 2 calls with me each month, to help pin-point and solve problems in between our monthly meet ups. This program pays off BIG, especially at such an affordable rate.
For Pet Professionals, we offer The Certified Pet Care Professional System™.   Each stand-alone course offers you a full 7 hours of intensive learning, resources and support  to leapfrog your pet care business to the next level.  You will spend the day in a roomful of other amazing pet enthusiasts who are excited solopreneurs like yourself.   www.PetFirstAidCourse.com  and  Pet Care 101
Additionally, I invite those who want exclusive and personal coaching with me to book an Individual Consultation or Mentorship session.  We meet in person or over the phone or Skype, to get you through your toughest questions easily.  You are encouraged to have your spouse and other family members present for these Individual Consultations or your business partner or key employee for these Mentorship sessions.  This allows us to create the most results BY FAR, as you have me to work directly with you and everyone involved, on YOUR issues and create a plan for success.
High-achieving go-getters who want to move extraordinarily fast in building their Pet Care Business can also contact me to apply for the DogGuru Pet Care Internship Program – Specialty & Practicals in Dog Daycare and Dog Walking/Pet Sitting. If accepted, we'll spend a whole day in-person learning and practicing what it takes to work with dogs and other pets.   You'll create a new level of understanding and the PRACTICAL experience to have your pet business off to a great start.  In essence, we immerse you IN the business.  I pull the curtain aside and let you see EXACTLY how I run my own business so you can model my systems and do the same thing yourself. To hear more details and send it your application for my review (I don't select everyone, so I cherry pick my clients. Email my team for an application.)
OK, I know which program I want. How do we get started?
Great! Did you know that one of the most prominent characteristics of successful people is that they take action? They take educated risks, are decisive, take action, and they move forward towards success faster as a direct result of this. It's a well-known fact these people make decisions based on their gut instinct. So, that being said, since this feels right for you, then go for it.
Here's what you do: just click on the info page links above or if you have a question, give us a call at 647.428.3819 or email my team and we'll be happy to answer any questions you have. I can't wait to meet you in person or on the phone to get you started on your path to enjoying your pets and possibly your new career!
If I'm not sure I'm ready to get started, how can I sample your work at low cost to see if it's the right solutions for me?
A way to sample The Dog Manners System™  and/or The Certified Pet Care Professional™ Program is by subscribing to the email newsletter. "The DogGuru" email newsletter provides you with proven training tips, the latest in the pet industry and powerful motivation from our DogGuru Programs. It is a must for any pet enthusiast who wants the very best for the pets in their care. Subscribe here.
OK, I'm ready to do this for myself, but I have a couple of additional questions. Can I call you?
Good, sounds like you're ready to be pulled into your future! Yes, if you have a couple of questions, just email us, or call us directly at 647.428.3819 and we'll be happy to walk you through the different options to see which one will be the very best for you. I can't wait to see you succeed and am honored to be the one to help you. Let's get going!